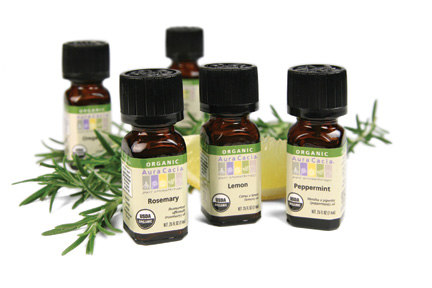 Essential oils make great natural remedies and are a wonderful part of an all-natural first aid kit. They can be used for colic, helping babies relax and get to sleep faster, bringing down a fever, or breaking up chest congestion.
When using them on babies it is very important to use extra caution. Usually one or two drops are enough to mix with water for diffusing or mixed with a carrier oil (such as coconut or olive) for a baby massage. Never use an undiluted essential oil directly onto a babies skin and be extra wary when using them in an area that could make it easy to get into the eye area.
Before using any essential oil, make sure your baby is old enough. Most are not recommended for babies under 6 months of age. Three of my favorites to have on hand are chamomile and lavender–considered safe for babies 4 months and up–and tea tree oil, which is considered safe for babies 6 months and older.
Here are some great things you can do with essential oils:
Massage Oil. Mix together two tablespoons of your carrier oil with one drop of either chamomile or lavender. Both of these scents are relaxing and can help soothe your baby at bedtime.
Diaper Rash. The same combination used for massage oil can be used in place of traditional diaper rash cream and may even help prevent yeast infections.
Fever Reducer. One drop of lavender in one tablespoon of coconut oil is great for making a feverish baby feel better. Rub the mixture on the back of the neck, along the back, and even on the legs and tummy if they're feeling warm.
Chest Congestion. An all-natural, homemade alternative to vapo-rub can easily be made with two drops of lavender and two drops of tea tree oil mixed with two tablespoons of coconut oil. Massage onto chest and back.
Toy and Surface Cleaner. Add about 5 drops of tea tree oil to one cup of water in a spray bottle and use it to clean baby toys. Tea tree oil is a wonderful antibacterial and can be used as a safe alternative to chemical-filled cleaning products.
Jacqueline Banks is a certified Holistic Health Counselor focused on nutrition and green living strategies. She works with women in all stages of motherhood, from mothers struggling with conception, through pregnancy, lactation and beyond to ensure the best health and nutrition for both mother and baby.