When you celebrate Halloween with little kids, the focus goes from candy and scary movies to well, candy and cute costumes. Kids' costumes are tons of fun, and many families choose to pick a theme and all dress up together.
Have your kids come up with 2 or 3 ideas. Vote as a family or put the themes in a jar and pick the winner. Have your kids present their costume ideas to you, along with ideas for what you will use to dress up with. Make it a fun, educational experience. Just remember, be fair and praise your kids for their ideas.
After you've chosen a theme, you need to decide if it's a costume you will make at home or have to purchase in a store. While creating your costume at home will save you money, remember that you're a mom. Most moms don't
have a ton of free time. (Unless you have kids that nap a lot and at the same time, right?) Have your kids come up with a list of items you will need and make the trip to the store a Halloween shopping adventure!
Here are some of the coolest costumes I've seen for families:
Superheroes
They're all over the movies and a superhero theme costume is easy to put together. Have your kids make the masks at home as a craft project. Use tights you already have. You could even make the capes, if you're crafty, or buy the fabric at a local store for cheap. Maybe instead of an "S" for Superman, you can use your families last name letter. Have your kids come up with fun superhero names and powers they possess to add their own creativity to their costumes. Find props at home to use, as well.
Food and Drink 
How cute is this! Be a family B.L.T. or PB and J sandwich! If there is one meal your family likes to share over dinner, turn it into your Halloween-themed costume. Be a family pizza and have each child choose a topping they want to be. How about ice cream and each child include their own toppings in their costume? My daughter is going to be a cupcake, so her little brother is going to be a food item that goes with cupcakes this year. (Maybe milk or ice cream?) Get creative and allow your kids to help with ideas for costume pieces.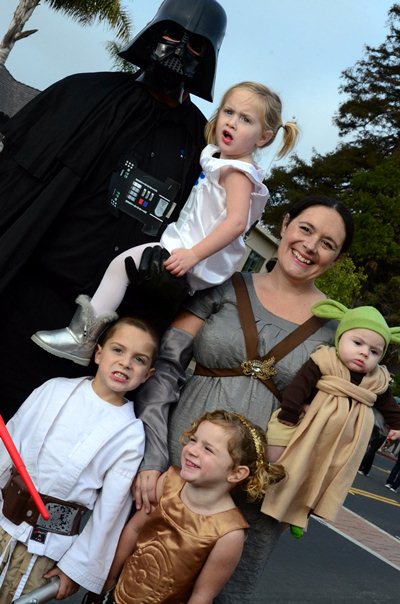 Movies/Music 
If your family all loves a certain movie or band, go with that theme. This is a fun Star Wars costume idea.  Wear your baby! Whatever you like as a family, go for it! My daughter would probably love to dress up as the characters from "Frozen" this year.
Whatever costume theme your family chooses, remember to have fun and take lots of pictures. What is your family going as this year?
Karyn Meyerhoff lives and writes in Northeast Indiana. Her favorite thing about Halloween is the candy.